What a start to Fashion Week!
Friday was the first day, and not only did Goodley PR (where I am currently working over Fashion Week) hold 5 shows in the same day, we also had to HAND deliver all of the Meadham Kirchoff tickets all around London first thing in the morning. So Thursday night we wrote out, sealed and sprayed with expensive perfume, 600 invites.
L.O.N.G.
I had all the East London publications so hit the likes of i-D, Dazed and Confused, 10 Magazine, AnOther Magazine, The Times, POP Magazine and 'Gentle Woman' where two very good looking young chaps man the office (oh haii internship??)
As soon as my bag of invites was empty, I sprinted back to the office to slip my blistered footsies into my Ash studded wedge boots, smeared on some lipgloss and ran (waddled in pain) to the On/Off Venue in Covent Garden for the Falguni & Shane Peacock show. Falguni is a favourite for celebs such as Jessie J, Cheryl Cole, Madonna, Katie Perry and Nicole Scherzinger, so expectations were high.
W.O.W.
If I could pick a collection to sum up my style it would look something like this! Studs, spikes, jumpsuits, sequins, leather and a colour palette of black and nudes, the biker chic looks made it difficult to hold in my excitement. I may have let out a few orgasm sounding gasps...the woman sitting in the row infront did not appreciate.
Managed to get a few snaps on my blackberry: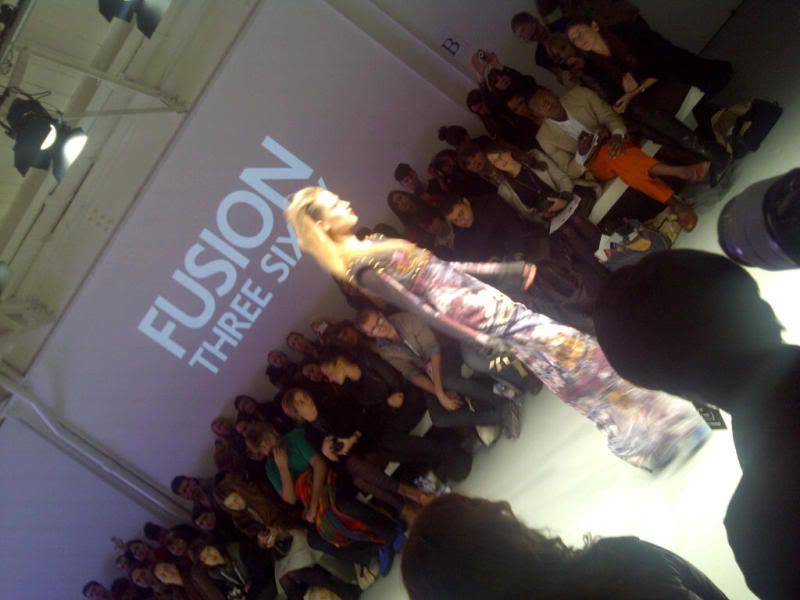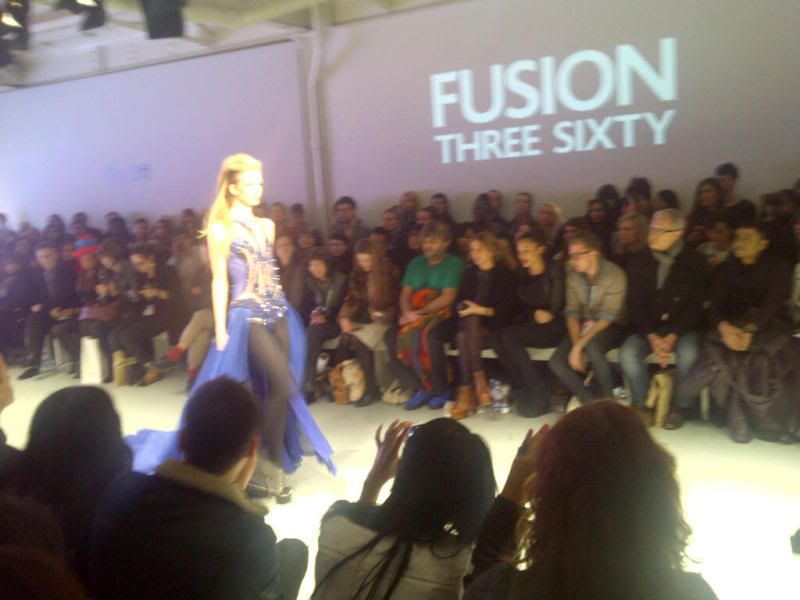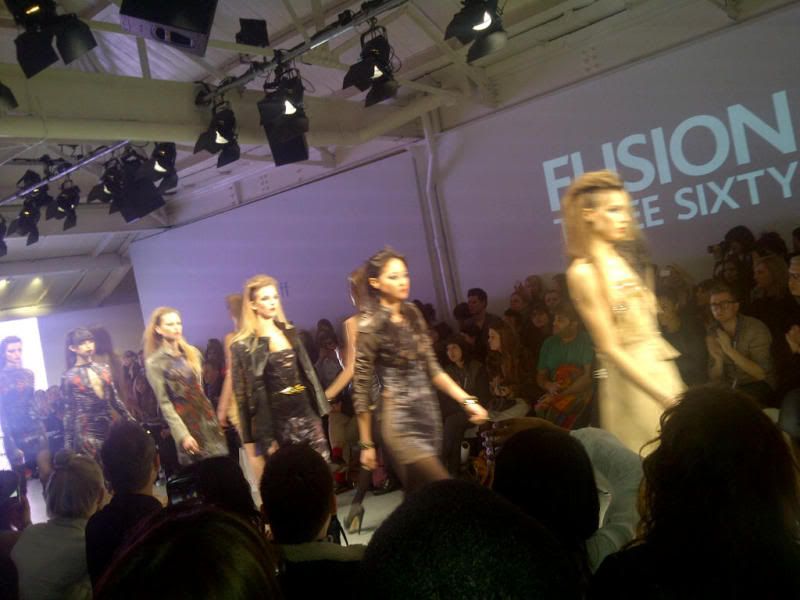 And Carla Guler, one of the proffessional photographers, got even better shots!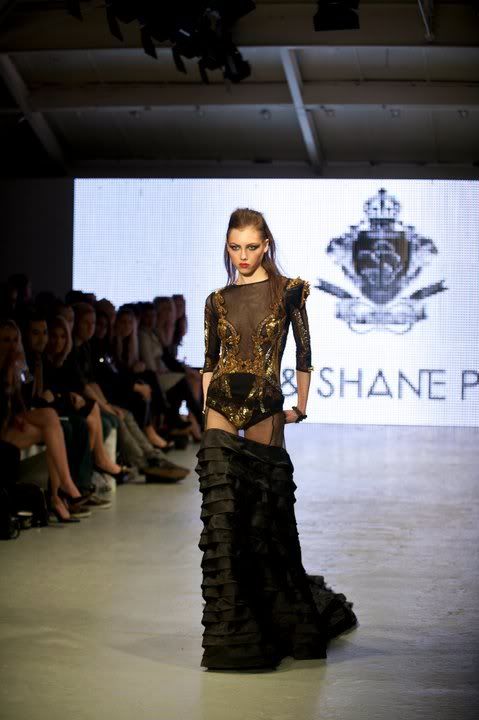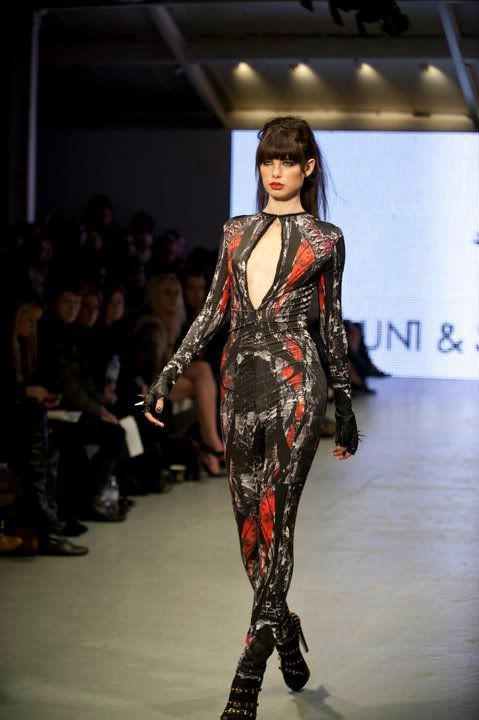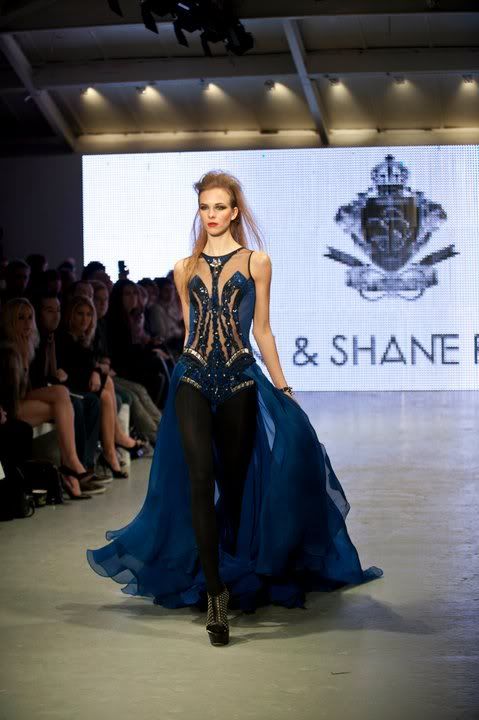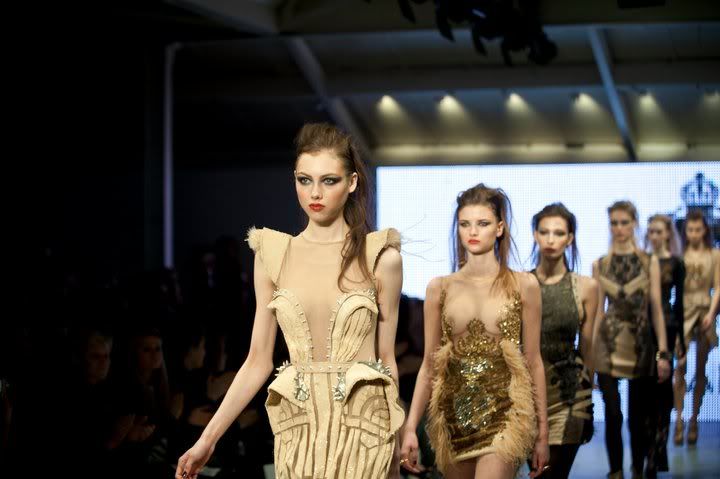 Wasn't keen on the models, but whatevs I wont hate.
Then it was time to jet back to the office, where the designers dropped off the entire collection to hang up in the show room. So I played about in that for a bit then set off to the William Tempest presentation, which was held at the Mayfair Hotel. Socliates, models and editors were out in their prettiest frocks and highest platforms, sipping cocktails and nibbling mini fashion cupcakes. I had five.
Instead of a catwalk, William opted for a short film screening, hence the Mayfair Hotel venue, starring the stunning Amber Le Bon and collaborating with Mechante of London shoes. Directed by Patrick Lindblom and Art directed by Egelnick and Webb, Tempest's collection was caught in an eerie, ethereal and enchanting light, showing beautifully sculpted dresses and silky flowing fabrics.
You can watch the short film HERE:
Sponsored by The Body Shop, I also got a killer goody bag. Yay free toiletries!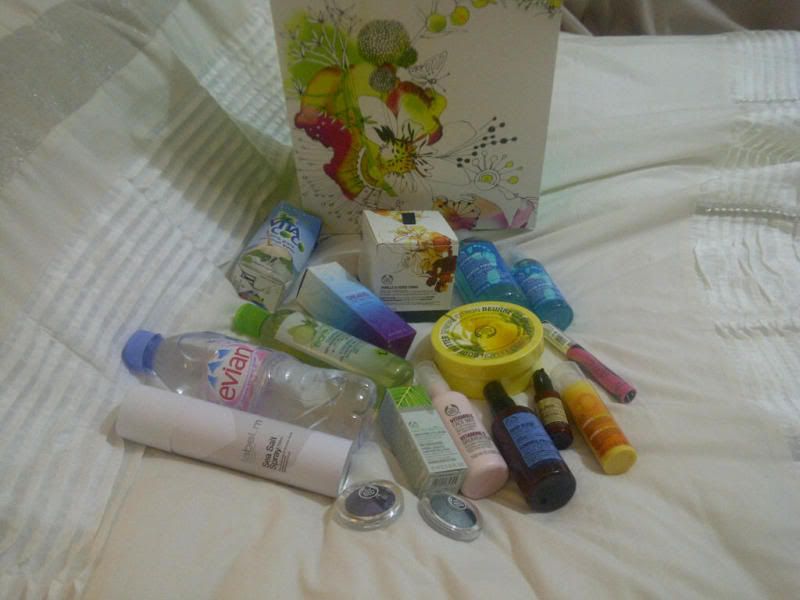 Next stop was the William Tempest after party at Maddox, where Yasmin & Amber Le Bon and Jameela Jamil gave an... interesting... DJ set (totally fucking random with no continuity but great fun!)
A night of cocktails, canape's and celebs. Then finally,

B.E.D.
xxx